I was inspired to make the descendants as a young adult group. Evie and Doug belong to Disney but Gala and Diomedes are mine as they were created for a specific fanfic I am doing. Please respect myself and the other creators I mention by not modifying/uploading to the Gallery, sites that steal cc (yes, I had this happen already) or pay sites. Oh and I also am known as Doctor Who_1987 on Modthesims
CC needed:
KiaraZurk's Dahlia Hawthorne mesh (
[You must be registered and logged in to see this link.]
)
MaleficaXD's Evie outfit (
[You must be registered and logged in to see this link.]
)
Mickeymouse254's Snow White Hair Mesh (
[You must be registered and logged in to see this link.]
)
Bios:
Gala White: 
"You have a real problem, your highness..."
-Gala to Prince Ben
Gala is the only child of Snow White and her prince. While she appears to dislike the VK's at their first meeting, in reality, Gala resembles both her parents in temperament as a sweet, concerned citizen of Auradon. She, like Doug, is aware of her parents' past with Evil Queen but because Evie hasn't done her any harm, has accepted Evie and the other VKs as citizens of Auradon. She is currently in a relationship with Diomedes, Evil Queen's son after the events of Return to the Isle of The Lost.
Diomedes Queen:
"There are two reasons why you never wanted me, Mother. One, I was always good and two, I wasn't born female. Well, Evie has embraced her inner goodness so it seems to me that you've ultimately lost both of your children. Live with it."
-Diomedes to Evil Queen via an arranged Skype meeting after arriving in Auradon
Diomedes or Dio, if one is talking to Evie, has been hidden away in the depths of the Evil Queen's castle because Evil Queen wanted a pair of evil daughters, not a son and a daughter. Dio is (according to his twin) a real prince because he would never hurt anyone even if Evil Queen commanded it. Mal brought Dio to Auradon during the events of Return to the Isle of the Lost and he is currently learning at Auradon Prep with the other students. He takes an instant liking to Gala and will tease her usually by calling her 'my fair princess'.
Evie Queen:
"We're gonna need all the family we can get if we don't pull this off. My mother's not a barrel of laughs when she doesn't get her way. Just ask Snow White." 
-Evie to Mal about their failed plan to steal the magic wand
Evie is a girl who is smart, flirty, and very kind in the long run. Unlike most of the villain kids, she is very pleasant, to the point that she was able to make the most sour villains smile with her laughter on her sixth birthday party. But don't let her charm fool you, Evie is loyal and authoritative when she wants to be.
Doug Mason:
Hi guys, I'm Dopey's son...as in Dopey, Doc, Happy, Grumpy, Bashful, Sleepy and...Heigh-ho!
- Doug upon introducing himself to the Villain Kids
Doug is a smart, sweet, yet socially awkward young man. He enjoys chemistry, saying it's almost like magic (this could hint that he too enjoys magic, even though it is frowned upon). Even though knowing his family's past with the Evil Queen, Doug had been enchanted by Evie (the Evil Queen's daughter) practically at first sight, and even went out of his way to help her when she was being scolded and threatened by a teacher who accused her of cheating.
Custom Content by Me:
- Eviehair
Additional Credits:
EA- for the game
Everyone at the MTS chat on Discord: I would not have finished this group and the others if it hadn't been for them, most notably; Karen, SummerGlau, MidnightADR, Cassie and Kitty
Sims 4 Studio
Disney for the characters and movies
[You must be registered and logged in to see this link.]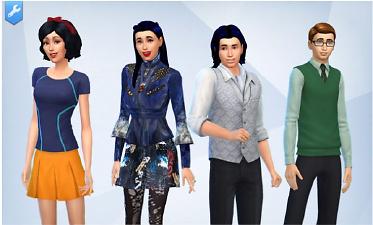 [You must be registered and logged in to see this link.]
[You must be registered and logged in to see this link.]
[You must be registered and logged in to see this link.]
[You must be registered and logged in to see this link.]
[You must be registered and logged in to see this link.]
[You must be registered and logged in to see this link.]
[You must be registered and logged in to see this link.]
[You must be registered and logged in to see this link.]
[You must be registered and logged in to see this link.]